Tested Texts
Volume 3: Always Reforming
Scripture Memory Initiative
Delivered to Your Inbox
Get the scheduled verse at the beginning of each week.
Scripture memorization is believed by many to be essential to the Christian life. At Calvary, we have decided to go about this process congregationally for the next year. We believe it will enhance the life of our church in many ways. Our purpose is "Making Jesus Christ known in Oak Park and Around the World," and we believe Scripture memorization is an integral part of that process for a few reasons.
In order to make Jesus Christ known, we must know him.
God has principally revealed himself to his people in his Holy Scriptures of the Old and New Testaments, that which the Christian tradition has called "the only rule of faith and practice." The Apostle Paul urges Timothy to continue in his practice of searching the "sacred writings" in order that he might grow up to spiritual maturity. Paul grounds his command in the claim that "All Scripture is breathed out by God and profitable for teaching, reproof, correction and training in righteousness." In short, God's Word is the lifeblood of every Christian. Calvary has long prioritized the Bible and held fast to its authority, and we believe that this initiative resonates with that tradition of our church.
In order to make Jesus Christ known, we must be a congregation of true worshippers
This goal necessitates we move beyond mere cognitive understanding of the Scriptures to a fully developed and vibrant spiritual existence grounded in God's Word. Beyond merely reading or reciting God's Word, we let it take root in our hearts; we meditate upon it and ask the Holy Spirit to transform us as the Scriptures renew our minds. The congregation that knows Jesus Christ in this way is ready to make him known.
In order to make Jesus Christ known, we want to know precisely how we ought to speak of him.
If we enrich our spiritual lives with Scripture, we believe the goodness and grace of God will always be on the "tip of our tongues." We will be happy to speak of him to our neighbors, co-workers and anyone we meet. Moreover, planting God's Word in our hearts will give us God's vocabulary to speak of himself, and we can be sure that we are true and authentic heralds of the king in our community.
This coming year marks 500 years since Martin Luther famously posted 95 Theses on the door of Wittenberg Castle Church on October 31, 1517. This event is celebrated as the beginning point of what historians refer to as the Protestant Reformation. The Protestant Reformation is more than a stage of history where massive groups of Christians broke from the Roman Catholic Church. It is a period that marks the Spiritual renewal of God's people.
During this time, God's people explored the depths of who God is and what he accomplished through his Son, the only source of salvation, as revealed by grace through faith in the Holy Scriptures. As this movement of God grew in momentum, pastors and scholars promoted the idea of the Church "always reforming" (Semper Reformanda). In addition to this moto of the Reformation, church leaders conceived of Five Solas: 1) Soli Deo Gloria (To God Alone Be The Glory), 2) Sola Gratia (Grace Alone), 3) Sola Scriptura (Scripture Alone), 4) Sola Fide (Faith Alone), 5) Solo Christo (Church Fully and Christ Solely). This edition of TESTED TEXTS is organized according to the Five Solas with each text carefully chosen to match each Sola, respectively.
The Reformation occurred at a timely juncture in history where new technology, the printing press, made it possible to mass-produce God's Word in the common speech of readers. This was a catalyst for Scripture memorization. We hope you enjoy this year's selection of Scriptures, along with the pastoral devotions and quotes that accompany.
TO GOD ALONE BE THE GLORY
Romans Eleven
When the Reformers claimed "Soli Deo Gloria"—"To the glory of God alone," their particular emphasis concerned God's role in salvation. Throughout Redemptive History, God is the subject who performs salvation, and the object of belief in that salvation. The revelation of Christ in the gospel, and subsequent justification by faith, rest entirely on God. It is God who pronounces deliverance to Adam and Eve; God then slays an animal in order to rescue the two sinners from the powerless human salvation of fig leaves (Gen. 3:15-21).
We can do nothing to affect our salvation because of the depths of our depravity. We are "dead" under the wrath of God, because we live to follow Satan, this world's philosophies, and our natural inclinations rather than follow God (Eph. 2:1-4). God gives mercy and grace to helpless sinners through Christ so that no human being can boast that we saved ourselves.
PASTOR ERIC REDMOND
33 Oh, the depths of the riches and wisdom and knowledge of God! How unsearchable are his judgments and how inscrutable his ways!
34"For who has known the mind of the Lord, or who has been his counselor?"
35 "Or who has given a gift to him that he might be repaid?"
36 For from him and through him and to him are all things. To him be glory forever. Amen.
Romans 11:33-36
Get the Wallpaper
Often times, I will pray, "Lord apart from you, I can do nothing." I can do nothing to walk in step with Christ because I am totally depraved. Every aspect of my person has been affected by sin. Confessing this humbling reality enables me to see "the goodness and loving kindness of God" more clearly. As I reflect on my life and see how I was "foolish, disobedient, led astray, etc"—I see that I do not deserve any amount of goodness or loving kindness from God. However, to the praise of God, his plan is not thwarted by my sin. Instead, God comes near to us in the man, Christ Jesus. Through God's grace alone we are joined to Christ and given the Holy Spirit. As we are brought into this beautiful union with God, we are justified and are heirs to eternal life. So as I pray, "I can do nothing," I also pray, "You have done and continue to do everything."
PASTOR TRAVIS JAMIESON
3 For we ourselves were once foolish, disobedient, led astray, slaves to various passions and pleasures, passing our days in malice and envy, hated by others and hating one another.
4 But when the goodness and loving kindness of God our Savior appeared,
5 he saved us, not because of works done by us in righteousness, but according to his own mercy, by the washing of regeneration and renewal of the Holy Spirit,
6 whom he poured out on us richly through Jesus Christ our Savior,
7 so that being justified by his grace we might become heirs according to the hope of eternal life.
Titus 3:3-7
SCRIPTURE ALONE
2 Timothy 3
Second Timothy contains the most vivid description of Scripture's inspiration—Scripture is "breathed out by God." Perhaps what makes this letter's articulation of the Doctrine of Scripture so powerful comes form the benefit of it being a personal letter. Paul's apostolic authority is sufficient to validate this essential doctrine, but the personal testimony is equally compelling. Timothy's grandmother, Lois, and mother, Eunice believed fervently in this doctrine and its entailments. They instructed Timothy to live according to "the sacred writings," which makes on "wise for salvation through faith in Christ Jesus" (2 Tim. 1:5; 3:15). From an early age, Timothy viewed Scripture as the sufficient map to guide him. God does not bring us into this world without providing a map to guide us home to him in heaven. He gave us the Bible to map us home. This letter reminds us that parents get to be guides for using this map.
PASTOR JOEY COCHRAN
14 But as for you, continue in what you have learned and have firmly believed, knowing from whom you learned it
15 and how from childhood you have been acquainted with the sacred writings, which are able to make you wise for salvation through faith in Christ Jesus.
16 All Scripture is breathed out by God and profitable for teaching, for reproof, for correction, and for training in righteousness,
17 that the man of God may be complete, equipped for every good work.
2 Timothy 3:14-17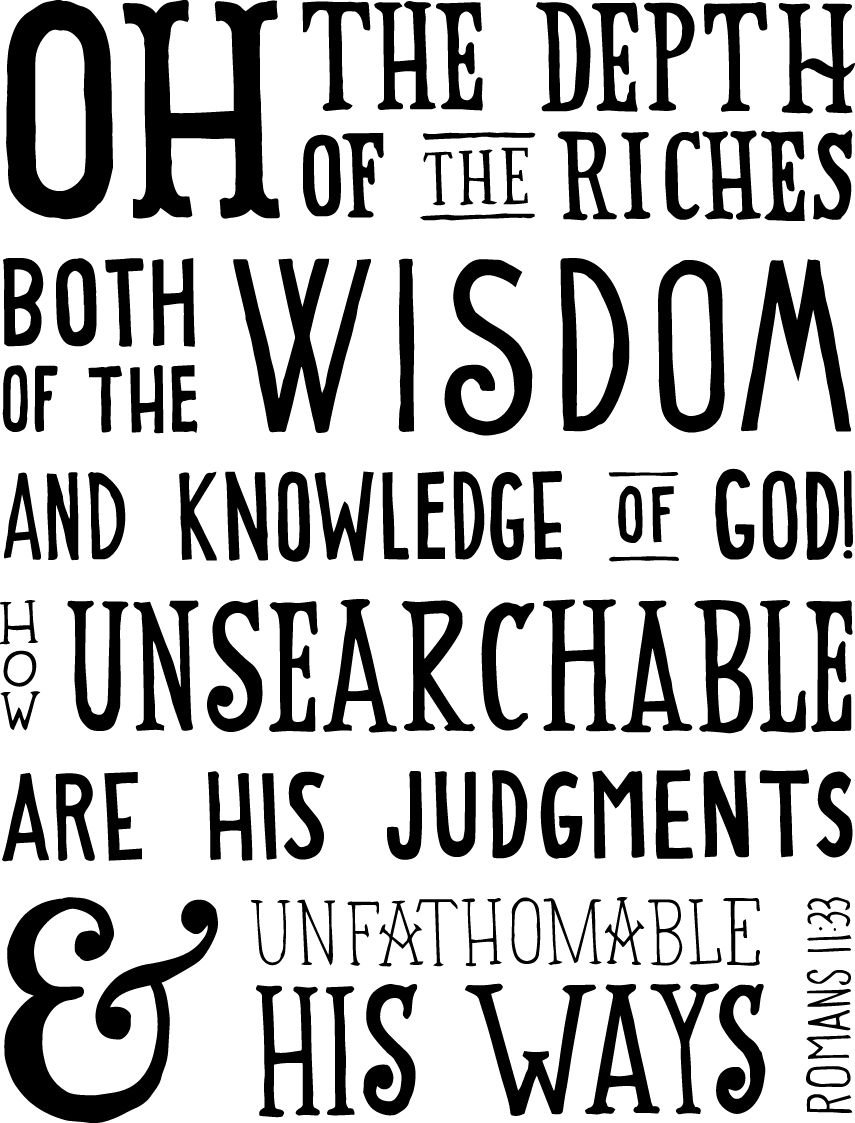 The Apostle Paul was the greatest of the New Testament apostles, and his letter to the Romans was his magnum opus—his great statement about the redeeming work of Christ. In his letter Paul draws upon Abraham as a model of faith. Just as Abraham, whose body was as good as dead, received new life by believing in God's promise of a son (Isaac), so too we who are also as good as dead receive new life by believing in God's promise of a Son (Jesus). This new life through Jesus anchors our hope for the future. And we know our hope in him will not disappoint us because even now he has poured out his love upon us through the gift of his Holy Spirit. And so, along with Abraham and the great apostle himself, we too can "boast in the hope of the glory of God!"
PASTOR GERALD HIESTAND
1 Therefore, since we have been justified by faith, we have peace with God through our Lord Jesus Christ.
2 Through him we have also obtained access by faith into this grace in which we stand, and we rejoice in hope of the glory of God.
3 Not only that, but we rejoice in our sufferings, knowing that suffering produces endurance,
4 and endurance produces character, and character produces hope,
5 and hope does not put us to shame, because God's love has been poured into our hearts through the Holy Spirit who has been given to us.
Romans 5:1-5
Get the Wallpaper
CHRIST FULLY & CHRIST SOLELY
Colossians Three
The doctrine of "Christ alone" affirms that Christ is fully sufficient for our salvation and at the same time the only one able to be our Savior. Our hope for reconciliation with God is found completely in Christ. Jesus has fully accomplished all that is needed for us to receive salvation. We access reconciliation with God through Jesus's life, death, and resurrection. By faith we are united to all that Jesus accomplished for us. Paul affirms in Colossians 3:1-4 that we are united to Christ. We are united to him in his death and resurrection. As Christ died, we die. As Christ rises, we will rise.
Paul goes on to challenge us that, since we are united to Christ, we must orient our lives around the values of his kingdom. We are to seek and set our minds on the things above. A fitting prayer for people who have their minds set on things above is the Lord's Prayer—"...your kingdom come, your will be done on earth as it is in heaven." It is our calling in life to seek first the kingdom of God and his righteousness.
PASTOR JONATHAN CUMMINGS
1 If then you have been raised with Christ, seek the things that are above, where Christ is, seated at the right hand of God.
2 Set your minds on things that are above, not on things that are on earth.
3 For you have died, and your life is hidden with Christ in God.
4 When Christ who is your life appears, then you also will appear with him in glory.
Colossians 3:1-4
Oct 9

Romans 11:33

Oct 16

Romans 11:33

Oct 23

Romans 11:34

Oct 30

Romans 11:35

Nov 6

Romans 11:36

Nov 13

Review: Romans 11:33-36

Nov 20

Titus 3:3

Nov 27

Titus 3:3

Dec 4

Titus 3:4

Dec 11

Titus 3:5

Dec 18

Titus 3:5

Dec 25

Break

Jan 1

Break

Jan 8

Titus 3:6
Jan 15

Titus 3:7

Jan 22

Review: Titus 3:3-7

Jan 29

2 Timothy 3:14

Feb 5

2 Timothy 3:15

Feb 12

2 Timothy 3:16

Feb 19

2 Timothy 3:17

Feb 26

Review: 2 Timothy 3:14-17

Mar 5

Romans 5:1

Mar 12

Romans 5:2

Mar 19

Romans 5:3

Mar 26

Break

Apr 2

Break

Apr 9

Romans 5:4

Apr 16

Romans 5:5
Apr 23

Review: Romans 5:1-5

Apr 30

Colossians 3:1

May 7

Colossians 3:2

May 14

Colossians 3:3

May 21

Colossians 3:4

May 28

Review: Colossians 3:1-4

Jun 4

End of Year Review
Scripture quotations are from The Holy Bible, English Standard Version® (ESV®), copyright ©2001 by Crossway, a publishing ministry of Good News Publishers.
Used by permission. All rights reserved.